Former Georgia Gov. Sonny Perdue to be U.S. agriculture secretary.
Perdue's confirmation set for April 24
Several Senate Democrats were reported to have placed a procedural hold on advancing the nomination due to some concerns, including Perdue's stance on trade with Cuba.
The scheduled vote comes after the Senate Agriculture Committee held a confirmation hearing on his nomination on March 23 and held a vote out of committee on March 30.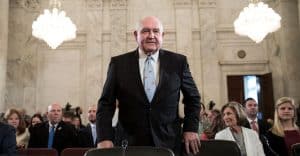 A coalition of 16 agricultural organizations, led by the National Association of Wheat Growers (NAWG), sent a letter to Senate leaders urging them to bring up Perdue's vote as quickly as possible. Despite the push from the agriculture industry to confirm Perdue the first week of April, the Senate will vote after its two-week recess on April 24.
"NAWG is pleased that leader McConnell has taken this important step and has set a firm date for a confirmation vote. The (U.S.) Department of Agriculture has been without a confirmed secretary for over two months," NAWG said in its April 6 newsletter.
During the week, the Senate has been debating the nomination of Judge Neil Gorsuch to fill the vacant seat on the U.S. Supreme Court, which has consumed most of the floor time for the week. Additionally, the Senate Finance Committee was slated to hold a vote Thursday on the nomination of Robert Lighthizer to serve as the U.S. Trade Representative, but the committee vote was unable to move forward.
In their letter, the agricultural groups noted that USDA "has been without political leadership for over two months, longer than nearly every other Cabinet-level agency. The list of key domestic and international issues that need to be addressed by the secretary and his team is long and growing, particularly given the troubling economic conditions in rural America. In addition, it is important to U.S. farmers and ranchers that USDA be at the table as the Administration considers recommendations on (fiscal year) 2017 appropriations and on the (fiscal year) 2018 budget," the letter said.
The Senate and House both will have two weeks of recess before they are back in session on April 24. They return with an April 28 deadline looming to pass a funding bill for the remainder of fiscal 2017 before the expiration of the current continuing resolution that's in place.