DEED: 6 Minnesota companies honored for export activity

5 other firms recognized for attracting foreign direct investment to Minnesota

The Minnesota Trade Office May 11 awarded the 2016 Governor's International Trade Award to six Minnesota companies that have been successful exporters.

The companies were honored during the World Trade Month luncheon at the Hilton Hotel in Bloomington. They were selected for developing and growing a significant part of their business from exports, for increasing or maintaining jobs in Minnesota to support international sales, and for developing novel approaches for competing globally.

The 2016 winners are Digital Content LLC of Edina, Crown Iron Works Co. of Roseville, DCM Tech Inc. of Winona, Great Plains Processing of Luverne, Ralco Nutrition Inc. of Marshall and Top Tool Co. of Blaine.

Additionally, the Trade Office named five other companies winners of the Governor's Foreign Direct Investment Award, which recognizes significant investment in Minnesota by foreign-based companies.

"These Minnesota companies illustrate how exporting or attracting foreign direct investment can help businesses compete globally," said Commissioner Shawntera Hardy of the Minnesota Department of Employment and Economic Development (DEED). "I congratulate them for their global achievements and thank each of them for being models that can inspire other Minnesota businesses to pursue international trade."

International trade is a key part of the Minnesota economy, with Minnesota companies generating more than $19 billion in sales from exports of agricultural, mining and manufactured products last year. Minnesota businesses exported 1,044 different products to 207 countries in 2016. Exports support almost 120,000 jobs in Minnesota.

The 2016 Governor's International Trade Award winners:

Digital Content LLC, Edina www.bigjohngames.com
Selling under the name Big John Games, the company designs and develops video games. It sells to customers in the United States and 28 other countries via Nintendo and its distributor networks. The company had exports of $2.2 million in 2015, which accounted for 80 percent of its sales.

Crown Iron Works Co., Roseville www.crowniron.com
Crown Iron started as a Minnesota blacksmith shop in 1878. In 1948 it diversified into food processing by introducing the "solvent extractor" for processing oilseeds such as soybeans. Today, Crown has more than 400 oilseed plants in 50 countries. Half of the world's soybeans are processed with Crown equipment. Crown export sales were $42 million in 2015, representing 57 percent of its total sales.

DCM Tech Inc., Winona www.dcm-tech.com
Founded in 1974, DCM designs and manufactures machine tools and surface-grinding equipment. DCM's customer base is primarily in North America, but its market has grown to include 19 countries in the past 15 years. Most recent export sales were $1.02 million – 14 percent of total sales.

Great Plains Processing, Luverne www.gpp-co.com
Great Plains Processing manufactures and ships animal feed supplements to 42 countries, accounting for 65 percent of its total sales. In the past three years, international shipments have grown 9.2 percent. In the same period, the company's workforce has grown from 12 to 19.

Ralco Nutrition Inc., Marshall www.ralcoagriculture.com
Ralco is a third-generation family business with distribution in 25 countries. The company provides advanced technologies in animal nutrition, animal health and enhanced plant performance products. In the past three years, the company has added six national markets and expanded exports to more than $7 million (8.8 percent of total sales). Full-time employment has grown from 135 to 188.

Top Tool Co., Blaine www.toptool.com
Founded 1966, Top Tool is a precision metal-stamping manufacturer. Beginning with its first export sale in 2010, the company has become an active exporter. Over the past three years, Top Tool export sales have risen from $251,000 to $922,000.

The following companies were named winners of the Governor's Foreign Direct Investment Award: Cirrus Aircraft Corp. of Duluth (Zhuhai, Guangdong, China), Global Kinetics Corp. of Minnetonka (Melbourne, Australia), La Costeña/Faribault Foods in Faribault (Ecatepec, State of Mexico, Mexico), Moventas in Chanhassen (Jyväskylä, Finland), and Sappi Fine Paper North America in Cloquet (Johannesburg, South Africa). All five businesses are owned by foreign parent companies.

HGA Architects and Engineers of Minneapolis was also recognized, receiving a Governor's Certificate of Commendation for collaborating with the Minnesota Trade Office on many activities. HGA has hosted many diplomatic events over the years, including a gathering with U.S. ambassadors from Asia and an event with more than 70 leaders from Latin America and South America, both in 2015.
Tags: Blaine, Edina, Minnesota Department of Employment and Economic Development (DEED), Roseville
Come visit us at booth V808. We will be sharing a booth with Brookside Agra during the show.
---

Event details:
June 7-9
Iowa State Fairgrounds
Bridging the gap between naturally produced amino acids and those needed for optimum condition helps improve health and performance, publishes gpp-co.com

Luverne, Minnesota – March 23, 2017 /MarketersMedia/ — Research has been ongoing in regard to the roles of various nutritional elements in livestock health and performance. Recent studies place increased emphasis on the significance of amino acids in animal diets, particularly that of pigs. These studies were conducted from three key angles, all of which point to positive results from proprietary amino acid intake. In light of these findings, Briana Conrad of Great Plains Processing (http://gpp-co.com/) has launched a new product in the company's lineup.
"At Great Plains Processing, we're dedicated to being on the cutting edge of the feed industry," said Conrad, "and we cover the full spectrum of feed processing needs. We have the facilities and expertise to produce both standard and custom liquid and dry blends. Our team continuously incorporates new developments into our processes and brings new ideas to our industry. Our latest product, GP Pro Plus is a high-quality nutritional supplement designed to deliver vital proteins and trace minerals as part of a balanced diet."
Reports indicate amino acids are critical factors in development on the cellular level as well as sources of energy for proper organ function. They are also crucial to muscle growth and maintenance. As vital elements in metabolism, amino acids aid in breaking down other nutrients and distributing them throughout the body as needed. They likewise play a role in nutrient absorption during digestion.
Studies have shown links between amino acid deficiencies and weakened immunity. Insufficient amounts of lysine and other AA's have been deemed particularly detrimental among young pigs from six to 12 weeks of age as well as those having been exposed to illnesses. Lastly, AA's are believed to reduce the environmental impact of pigs' waste by lowering nitrogen content. While 22 amino acids are vital to health and proper growth, pigs are only able to produce 10 of them naturally; those remaining 12 must be gleaned from food and supplements.
Further details about GP Pro+ along with Great Plains Processing's other products and services are available via www.gpp-co.com.
Concluded Conrad, "GP Pro+ contains a range of key nutrients, including digestible sources of peptides, amino acids and trace minerals. When incorporated into a balanced diet, it drives feed intake, leading to optimal growth, condition and health. We invite anyone interested to view the results of our field trials on our website or contact us for more information. Quality, safety and innovation are our top priorities, and this latest product in our lineup carries on our commitment to these values."
About Great Plains Processing:
Established in 2000, Great Plains Processing has grown to become a global leader in custom spray drying and blending for the feed industry. The company's services expand beyond manufacturing to include sales, distribution, logistics and warehousing.
Contact Info:
Name: Briana Conrad
Organization: Great Plains Processing
Phone: (507) 283-4421
Source URL: http://marketersmedia.com/great-plains-processing-launches-new-product-geared-toward-livestock-health/180324
For more information, please visit http://gpp-co.com/
Source: MarketersMedia
Release ID: 180324
Dave Dickson Memorial Golf Classic
Great Plains Processing will be fielding a team again at the 2017 event
.The date for this upcoming year is May 17 at University Ridge Golf Course in Madison, Wisconsin. The scramble format provides a fun environment for all skill levels so please join us and hopefully we can get together this upcoming May.
The Dave Dickson Memorial Golf Classic supports the University of Wisconsin – Madison dairy science department's undergraduate student scholarship program. All proceeds go directly to the program to develop students growth and learning in the industry.
Click here for the Dave Dickson Memorial Golf Classic Brochure
Number of certified organic farms up 13%
Increase in certification continues trend of double-digit growth in organic sector and represents highest growth rate since 2008.
The U.S. Department of Agriculture announced new data indicating that the organic industry continues to expand domestically and globally, with 24,650 certified organic operations in the U.S. and 37,032 around the world.
The 2016 count of U.S. certified organic farms and businesses reflects a 13% increase between the end of 2015 and 2016, continuing the trend of double-digit growth in the organic sector. The number of certified operations has increased since the count began in 2002, and this is the highest growth rate since 2008.
Organic certification is an "opt-in" voluntary standard that is managed through a public/private partnership. USDA accredits and oversees approximately 80 businesses and state governments that directly certify organic farms and businesses. USDA provides a number of educational resources to help organic producers access this growing market. These include interactive videos that help candidate farmers understand how to get and maintain organic certification and fact sheets that explain the value proposition of organic certification and outline the standards in a clear manner.
The complete list of certified organic farms and business is available through the Organic Integrity Database of certified operations maintained by USDA-accredited certifying agents. Launched in 2015, the database discourages fraud by providing more accurate and timely information about operations certified to use the USDA organic seal. The database also supports supply chain connections between buyers and sellers of organic goods.
Laura Batcha, chief executive officer and executive director of the Organic Trade Assn., said the group "is thrilled and not surprised to see the strong growth in the number of certified organic operations in the United States and worldwide." Organic certifiers reported record numbers of new applicants in 2016, the association added.
Advertising, mouse over for audio
"That said, there are still significant gaps in the domestic production of feed grains. Achieving success in closing this gap will require dedicated attention and a long-term strategy," Batcha said in an email statement to Feedstuffs.
U.S. cattle on feed up slightly in March
Placements 10% above the same period last year.
Other disappearance totaled 56,000 head during March, 10% below 2016.
Perdue's confirmation set for April 24
Several Senate Democrats were reported to have placed a procedural hold on advancing the nomination due to some concerns, including Perdue's stance on trade with Cuba.
The scheduled vote comes after the Senate Agriculture Committee held a confirmation hearing on his nomination on March 23 and held a vote out of committee on March 30.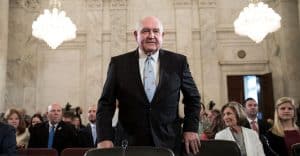 A coalition of 16 agricultural organizations, led by the National Association of Wheat Growers (NAWG), sent a letter to Senate leaders urging them to bring up Perdue's vote as quickly as possible. Despite the push from the agriculture industry to confirm Perdue the first week of April, the Senate will vote after its two-week recess on April 24.
"NAWG is pleased that leader McConnell has taken this important step and has set a firm date for a confirmation vote. The (U.S.) Department of Agriculture has been without a confirmed secretary for over two months," NAWG said in its April 6 newsletter.
During the week, the Senate has been debating the nomination of Judge Neil Gorsuch to fill the vacant seat on the U.S. Supreme Court, which has consumed most of the floor time for the week. Additionally, the Senate Finance Committee was slated to hold a vote Thursday on the nomination of Robert Lighthizer to serve as the U.S. Trade Representative, but the committee vote was unable to move forward.
In their letter, the agricultural groups noted that USDA "has been without political leadership for over two months, longer than nearly every other Cabinet-level agency. The list of key domestic and international issues that need to be addressed by the secretary and his team is long and growing, particularly given the troubling economic conditions in rural America. In addition, it is important to U.S. farmers and ranchers that USDA be at the table as the Administration considers recommendations on (fiscal year) 2017 appropriations and on the (fiscal year) 2018 budget," the letter said.
The Senate and House both will have two weeks of recess before they are back in session on April 24. They return with an April 28 deadline looming to pass a funding bill for the remainder of fiscal 2017 before the expiration of the current continuing resolution that's in place.
Read the white paper (click on title below) by Frank Mitloehner about the relationship between climate change and livestock.
By: Frank Mitloehner, Professor & Air Quality Specialist
Department of Animal Science, University of California, Davis
U.S. meat exports continue strong pace in February
Mexico pacesetter for February pork exports.
February results for U.S. pork and beef exports were well above year-ago levels, with pork exports posting the strongest February volume on record, according to statistics released by the U.S. Department of Agriculture and compiled by the U.S. Meat Export Federation (USMEF).
Pork exports reached 197,025 metric tons in February, up 15%year over year, with value up 17% to $486.7 million. For the first two months of 2017, exports totaled 399,692 mt, up 18%, with value increasing 22% to $995.3 million.
February exports accounted for 27.6% of total pork production and 22.9% for muscle cuts only, up from 23.8% and 20%, respectively, last year. January-February ratios were also significantly higher at 26.8% and 22.2%, compared to 23.0% and 19.3% in the first two months of 2016. Export value per hog slaughtered averaged $51.94 in February, up 18% year over year, while the January-February average was up 20% to $51.05.
Beef exports totaled 90,417 mt in February, up 9% year over year, with value up 16% to $508.5 million. Through February, beef exports were up 13% in volume to 186,905 mt and up 17% in value to $1.02 billion.
February exports accounted for 12.6% of total beef production and 10.1% for muscle cuts only, which was steady with last year. January-February ratios were also fairly steady at 12.4% and 9.8%, respectively. Export value per head of fed slaughter averaged $276.96 in February, up 13% from a year ago, while the January-February average was up 10% to $266.34 per head.
"With trade deficits being a hot topic of conversation, especially with countries such as Mexico, China and Japan, it's important to highlight the sectors in which U.S. products are competitive throughout the world and exports are thriving," USMEF president and chief executive officer Philip Seng said. "The red meat sector is certainly in that category, as exports have helped fuel growth in the U.S. industry, and in turn, larger U.S. production has opened further export opportunities and generated positive returns for the entire supply chain."
Pork exports strong to Western Hemisphere, North Asian
USMEF reported that Mexico was once again the pacesetter for February pork exports, with volume up 22% to 64,990 mt and value increasing 28% to $116 million. This pushed the two-month totals for Mexico 27% higher to 137,396 mt, with the value up 39% to $244.7 million.
"Mexico's strong demand is reflected not only in increased buying from the U.S. but also in relatively high domestic hog prices, as per capita consumption of pork continues to grow," USMEF said. Strong demand from Mexico helped move prices for U.S. heavy bone-in hams higher in 2017 — up an average of 4% year over year.
For Japan, the leading value market for U.S. pork, February exports increased 14% to 32,178 mt, with valued rising 18% to $130.4 million. For January-February, exports to Japan were up 10% in volume to 63,755 mt and rose 14% in value to $256.1 million. Chilled pork exports to Japan increased 7% through February to 34,682 mt.
According to USMEF, other highlights for U.S. pork included:
China/Hong Kong continued to take large volumes of U.S. pork variety meats in February, offsetting the slowdown in pork muscle cuts and putting the combined February total at 42,881 mt, up 5% year over year, with value at $83.2 million, up 12%. Two-month totals were up 10% in volume to 80,893 mt and rose 15% in value to $159.3 million. China's hog prices dropped below year-ago levels in February and have continued to drift lower, but China/Hong Kong's total January-February imports were still up 35% from last year's record pace at 532,600 mt.
Pork exports to South Korea, which were slow in the first half of 2016 before gaining momentum later in the year, totaled 14,649 mt in February, up 26%, with value at $38.2 million, up 29%. Through February, volume increased 29% to 30,722 mt, while value improved 39% to $83.3 million. Korea's hog prices have increased an average of 8% this year, even as production has been growing, which is indicative of strong demand, USMEF said.
Led by a year-over-year doubling of exports to Colombia and Chile and solid growth in Honduras, exports to Central and South America were up 45% in volume to 27,022 mt through February, while value increased 42% to $61.8 million.
January-February exports to the Dominican Republic were also well above last year's pace, rising 28% to 5,279 mt, with value up 34% to $11.8 million.
Chilled beef to Japan, Korea and Taiwan drives growth
USMEF reported that Japan continued to solidify its position as the leading volume and value market for U.S. beef, with February exports to Japan climbing 48% from a year ago in volume to 23,789 mt and 55% in value to $134.3 million. Through February, exports to Japan were up 41% in volume to 46,276 mt and rose 44% in value to $259.6 million. This included a 60% increase in chilled beef volume to 19,404 mt.
Japanese import data showed that U.S. beef overtook Australian beef in the first two months of the year, with U.S. market share climbing to 45.6% while Australia's dropped to 44%.
Strong momentum continued for U.S. beef in Korea, where February exports increased 11% to 13,093 mt and value rose 26% to $86 million. This pushed the two-month totals up 23% in volume to 28,287 mt and up 31% in value to $177.6 million. Chilled exports through February were up 95% to 5,384 mt.
In Taiwan, February exports jumped 33% from a year ago to 2,886 mt, while value increased 26% to $25.3 million. Through February, exports were up 28% in volume to 6,477 mt and up 25% in value to $55.1 million. U.S. beef holds 70% of the chilled beef market in Taiwan, the most of any Asian market. Through February, chilled exports to Taiwan increased 12% to 2,479 mt.
USMEF noted that other highlights for U.S. beef included:
Exports within North America are off to a solid start in 2017, with January-February exports to Mexico increasing 14% from a year ago in volume to 36,235 mt and rising 3% in value to $147.4 million. Exports to Canada are showing signs of a rebound, with volume up 11% to 19,446 mt and value up 18% to $123.5 million.
Beef exports to two key South American markets increased significantly in value through February, with exports to Chile up 22% year over year to $8.9 million and exports to Peru up 68% to $4.3 million. The increase in Chile was achieved despite a 16% decline in volume to 1,417 mt, while volume to Peru was up 16% to 1,130 mt.
A rebound in the Philippines and continued growth in Vietnam pushed January-February beef exports to the Association of Southeast Asian Nations region up 33% in volume to 4,774 mt and up 19% in value to $27.3 million. Exports to Indonesia, which set a value record of $39.4 million last year, are off to a slow start in 2017, with value through February down 48% to $3.5 million.
Strong growth in beef exports to most Asian markets helped offset a slowdown to Hong Kong, where January-February volume was down 21% to 16,131 mt and value was down 12% to $104.7 million.
Market recap
Losses continued in the April fed cattle futures market, but the markets appeared to find support as the week progressed. Nearby contracts closed lower Monday at $119.425/cwt. but finished higher Wednesday and again into Thursday's close of $118.80/cwt.
April feeder cattle futures were mostly lower this week. Nearby contracts closed higher Thursday at $131.95/cwt. after closing lower Tuesday at $132.025/cwt. and Wednesday at $130.525/cwt.
For the beef cutouts this week, Choice and Select closed lower at $207.90/cwt. and $200.28/cwt., respectively.
April lean hog futures were mostly lower but climbed as the week progressed. Nearby contracts closed lower Tuesday at $63.625/cwt. but finished higher Thursday at $63.925/cwt.
Pork cutout values were mixed on Thursday. The wholesale pork cutout was lower at $74.18/cwt. Loins and hams closed higher at $73.86/cwt. and $55.95/cwt., respectively, while bellies closed lower at $122.07/cwt.
Hogs delivered to the western Corn Belt were lower this week, closing at $60.72/cwt. on Thursday.
The U.S. Department of Agriculture reported the Eastern Region whole broiler/fryer weighted average price at 95.83 cents/lb. on March 31.
According to USDA, egg prices were steady, with a steady to weak undertone. Offerings were mostly moderate, although moderate to heavy in California. Demand has been in a full range of light to good. Supplies have been moderate to heavy in the Midwest and California and moderate elsewhere.
Large eggs delivered to the Northeast were unchanged at 85-89 cents/doz. Prices in the Southeast and Midwest were also unchanged at 85-88 cents/doz. and 78-81 cents/doz., respectively. Large eggs delivered to California were unchanged at $1.36/doz.
For turkeys, USDA said the market was steady to barely steady. Offerings and demand have both been light to moderate. Prices for hens were lower on the upper range at 97 cents to $1.03/lb., while prices for toms were unchanged at 97 cents to $1.03/lb.